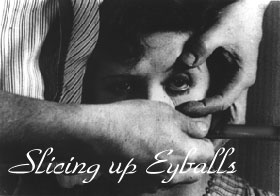 This site is dedicated to someone special who brought the Pixies into my life along with some other unforgetable things...
---
"I am un chien andalusia" actually mixes English ("I am"), Spanish ("un", which exists in French, but is actually pronounced as in Spanish), French ("chien"), and something undetermined ("andalusia" as such is neither French nor Spanish).
'I wish Bunuel was still alive. He made this film about nothing in particular. The title itself is a nonsense. With my stupid, pseudo-scholar, naive, enthusiast, avant-garde-ish, amateurish way to watch 'Un Chien Andalou' (twice), I thought: 'Yeah, I will make a song about it,' he sings: "un chien andalou"...It sounds too French, so I will sing "un chien andalusia", it sounds good, no?'
(Black Francis, translated from a Spanish interview)
---
Webster's Revised Unabridged Dictionary (1913)
Debase
[De*base"], v. t. [imp. & p. p. Debased; p. pr. & vb. n. Debasing.] [Pref. de- + base. See Base, a., and cf. Abase.] To reduce from a higher to a lower state or grade of worth, dignity, purity, station, etc.; to degrade; to lower; to deteriorate; to abase; as, to debase the character by crime; to debase the mind by frivolity; to debase style by vulgar words.
Syn:
To abase; degrade.
Debaser
[De*bas"er], n. One who, or that which, debases.
WordNet (r) 1.5
debase
v
1: corrupt morally [syn: corrupt, pervert, demoralize, debauch, profane, vitiate, deprave, misdirect]
2: lower in value; of metals [syn: alloy]
3: add water to a mixture to dilute it [syn: adulterate, water down, dilate]
---